A WARDROBE

that

MEASURES UP

We're here to help you find a fit that flatters.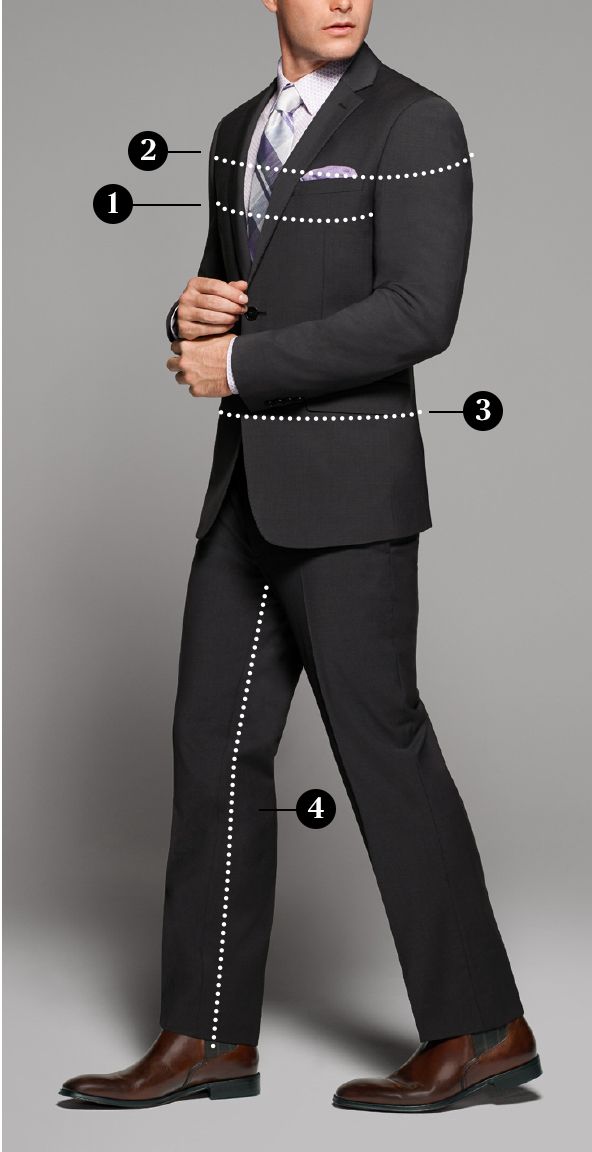 HOW TO MEASURE FOR A SUIT
To get accurate measurements, you will need a soft measuring tape and a partner to help. Remove your outerwear and/or suit jacket when having your measurements taken. Of course, you can always stop in at any Men's Wearhouse and one of our Expert Stylists will be happy to take your measurements.
IMPORTANT: The chest and overarm measurements are a guideline for the range of sizes that fit your frame. As a general rule, your chest measurement will be your jacket size.
1

Chest Measurement

Hold your arms out to the side and have your partner wrap the tape measure around your torso, making sure the tape is snug in your armpits. Lower your arms and have your partner check to make sure the tape is level across your shoulder blades in the back and over the widest part of your chest in the front. Make sure you aren't holding your breath or sucking in. This will affect the measurement.
2

Overarm Measurement

Stand with your arms at your side. Have your partner wrap the tape measure around your arms and torso, making sure the tape is level across your shoulder blades in the back and the widest part of your chest in the front. Make sure you aren't holding your breath or sucking in. Instead, breathe regularly and keep your body relaxed.

NOTE: To accommodate men with a large upper body, both measurements should be considered. If the difference between your chest and overarm measurements is greater than 7", subtract 7" from your overarm measurement to get your jacket size. For example, if your chest measures 40" and your overarm measures 49", the recommended jacket size is 42. We suggest trying on different sizes and fits so you can see what looks and feels best.
3

Waist Measurement

Wrap the tape measure around your waist, near your navel. Do not measure over the waistband or belt of your pants. Make sure the tape is level across the front, back and sides. The tape measure should be snug, but not tight. For a proper fit, dress slacks are worn above the hipbone on the natural waist, about the height of the navel.
4

Inseam Measurement

It's possible to get your inseam measurement using a pair of pants you own that fit you well. Fold the pants in half vertically and lay them on a flat surface. Place the end of the tape on the crotch seam and stretch it to the bottom of the hem. Make sure the pants you use to measure closely matches your selected suit fit. For example, if you are looking for a slimmer fit suit be sure you use slimmer fitting pants when measuring.

For body measurement, stand upright while your partner measures from the crotch seam to where you would like the hem to fall. To find the most accurate inseam measurement, wear the shoes you intend to pair with the pants. We recommend that the pants skim the forefoot (or top) of your shoe, but feel free to adjust the length if you prefer a shorter or longer hem.

These measurements are a guide to help choose the size that will fit you best.
Your exact size may vary depending on the designer label you choose.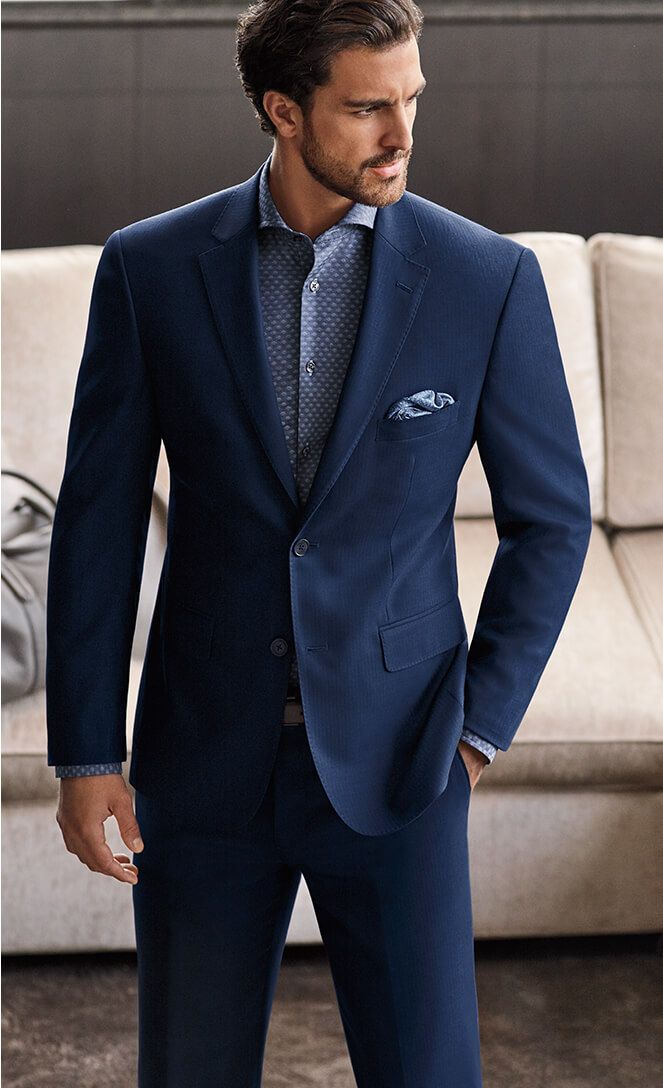 SIZE MATTERS
At Men's Wearhouse, Big & Tall means Befitting
& Tasteful, not Baggy & Tent-like. We have quality clothing made to fit men of all sizes. If you're a big or portly guy, we have jackets that are cut generously through the chest, shoulders and waist. Our pants are relaxed through the seat and thigh. If you're tall, we can accommodate your long arms with sleeve lengths up to 39", extra long jackets and extra long ties. We offer shoes up to size 16. From workday basics to weekend casuals, we've got you covered.
If you have a hard time finding a suit that fits
well, look for suits where the pieces are sold separately. Suit separates will allow you to customize the size of your jacket and pants to achieve the right fit. Add a vest for even more versatility, and an extra pair of pants will help maximize the longevity of the suit. Each piece can be worn together or separately so that your wardrobe goes further.
For personalized assistance, visit one of our
stores. An Expert Stylist can make suggestions on choosing the right size and cut, and our on-site tailors are at your service to make any necessary alterations so that you get a perfect fit.
SHOP BIG & TALL SUITS
STYLE TIPS FOR BIG & TALL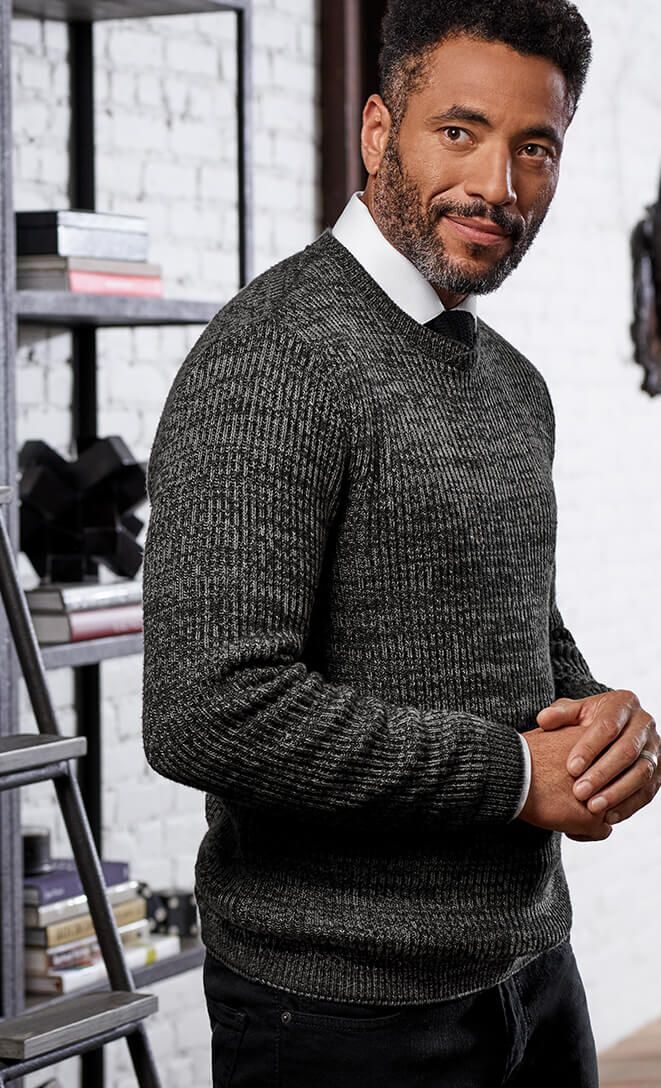 Avoid skinny ties. Stick with the standard 3" width to
maintain the proper proportion.
Button your jacket. This simple act creates a slimming effect
for a big guy, or a less imposing look for a muscular build.
Classic tones are your friend. Big & Tall guys can stand out
because of their size, and that's not always a good thing.
Choosing classic colors like black, gray, or navy is best. Add
color in accent items rather than in main wardrobe pieces like
jackets or dress pants.
Avoid horizontal stripes and large-scale patterns. Keep
patterns simple, or stick to ones like small checks that don't
exaggerate proportion.
Avoid skinny jeans. This includes muscular guys with large
calves and thighs.
The proper fit is key. A garment that fits well can be
slimming and flattering. Clothes that are fit too tight/small
make you look like you need to lose a few pounds. It may
seem like clothes that are too big are hiding your frame, but they
make you look even bigger.
If you struggle to find an off-the-rack fit that looks and feels
good, consider going custom.
SHOP BIG & TALL
WE'LL HELP
you find


THE PERFECT FIT

Need more advice? Visit us! Our Expert Stylists are there to help

you find a smart, personalized look at a price that suits you.FIND A STORE